Posted By RichC on April 23, 2014
$AAPL Resumed trading at 4:45PM
Looks like investors approved of the 7 for 1 stock split and the idea that Apple is willing to tap the debt market in 2014 for the future. It would be nice to know what products are actually in the works, but so far the 8% afterhours move is a positive for those who hold the stock. Also the 8% quarterly dividend increase to $3.29 is also a benefit.
The commitment announced Wednesday as part of Apple's fiscal second-quarter earnings report expands on the company's previous pledge to spend $60 billion on stock buybacks by the end of next year. The company is now earmarking $90 billion for buybacks during that time frame.
I would expect with a new entry price per share below $100 will make shares "seem" more affordable to the average investor and might make them attractive to move to the NYSE? Rumors.
As for real data … iPhone sales were better than expected, but iPad not quite what we thought.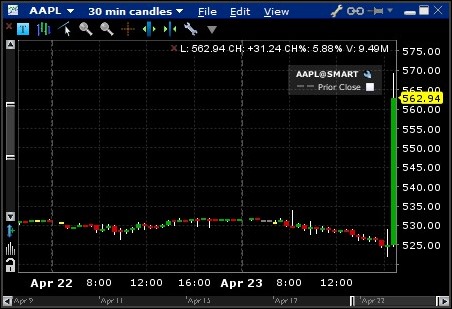 Board of Directors also Approves Seven-for-One Stock Split

CUPERTINO, California—April 23, 2014—Apple® today announced that its Board of Directors has authorized another significant increase to the Company's program to return capital to shareholders.  The Company expects to utilize a total of over $130 billion of cash under the expanded program by the end of calendar 2015.