Posted By RichC on August 20, 2019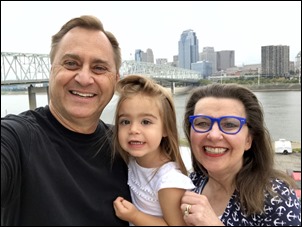 Last week was a grandparent's dream as we had our wonderful 2-1/2 year old granddaughter Annalyn for the week. Of course we initially wondered if she would be a little homesick and miss mom and dad, but from the first moment when I drove halfway to make the pickup from Katelyn, I knew it was not going to be a problem. Annalyn was excited and happy to be with us in Cincinnati.
Our week started with just Bompa and Annalyn, but there wasn't a problem as she is the perfect little helper and loves doing everything with me. From tinkering in the workshop, to setting the table or unstacking the dishwasher; my little shadow was right next to me all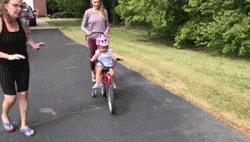 the time.
I also had a couple new things for her to do – like pretend camping (Taylor was over after work and set up our tent and his hammock) and riding our kids first bike. I had put the training wheels on it and she was so excited about the "big kids bike." She is not quite big enough to peddle it, but I added a push handle to the back and that worked great.
We also planned a day at the Newport Aquarium which was perfect for her. She may have been just a bit young for a few of the climbing adventures, but had no problem walking everywhere to see everything. I think the penguins may have been her favorite, but she enjoy everything else too. We even walked across the "shark bridge" just before feeding time (when they were the hungriest!)
Of course the summer at Oma and Bompa's would not be complete without swimming in the pool, playing on "shark island" or eating snacks on the porch. Oma of course also bought way too many new clothes … including her favorite, shark pajamas (photos below). (more…)