Posted By RichC on October 2, 2013
I was sad to hear of the passing of one of my favorite authors Tom Clancy (Apr 12, 1947 – Oct 1, 2013) as his early cold-war novels were a staple of my fictional reading. His military novels and well developed characters like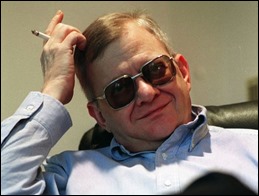 Jack Ryan held my interest for many years after losing John D. MacDonald and his Travis McGee character. Clancy set the bar for all the military fiction novelists that followed, and was the envy of many aspiring male writers.
According to early news reporting, he died after a brief illness at John Hopkins Hospital in Baltimore, MD. He was perhaps the best known military thriller novelist in my lifetime and wrote suck best best-selling books as "Patriot Games," "Clear and Present Danger," and "The Hunt for Red October." His next book, "Command Authority," is planned for publication on December 3rd and a film "Jack Ryan: Shadow One" starring Chris Pine is set to open in theaters on December 25th. 
I've read the majority of his best-sellers and enjoyed several movies based on his writings. The listing of published work is impressive (fictiondb.com below) … as are the number of his books on my bookshelf! His exceptional talent will surely be missed as few authors capture in realistic detail the technology which is now part of our national defense and sophisticated military.
Tom Clancy also was "creator" of several other Acton Adventure series writings … the list is substantial.