Posted By RichC on May 3, 2008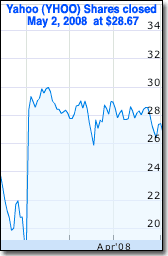 Microsoft released a letter from Chief Executive Steve Ballmer on Saturday that he sent to Yahoo CEO Jerry Yang saying that Microsoft was willing to raise its offer to $33 a share for Yahoo, but Yahoo demanded at least $4 per share more; $37/share. (the Monday share price for Yahoo will be interesting) "Despite our best efforts, including raising our bid by roughly $5 billion, Yahoo has not moved toward accepting our offer," Mr. Ballmer said in a Microsoft press release. The WSJ reported that Microsoft has withdrawn its bid for Yahoo and has speculated is that Microsoft may be considering going hostile in acquiring Yahoo.
EDIT 5/5/2008: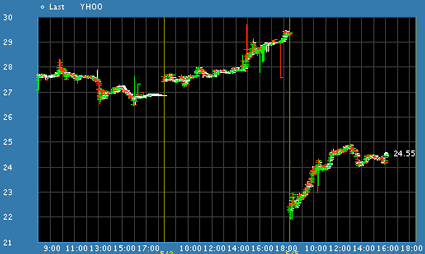 From the NYTimes technology blogs:
Shortly after Microsoft announced its hostile bid for Yahoo, Google objected and raised the prospect that it would fight to challenge any merger with the government.

As it turned out, Google was very much the spoiler in the deal. But its most effective weapon was not threats or coercion, but its very effective, and unconventional, use of its own checkbook.

Google has agreed to sell some search advertising for Yahoo. And since Google earns far more on every search than its rivals do, this will mean an immediate increase in Yahoo's profits.

Microsoft's chief executive, Steven A. Ballmer, said the prospect of such a deal that could deprive Microsoft of being able to sell all Yahoo's search ads made proceeding with a hostile takeover less attractive. And Yahoo hopes the promise of a big check each quarter from Google will placate enough shareholders to head off a revolt over its decision to turn down Microsoft's offer of $33 per share.

It is a rare company that will help its biggest rival this way. And Google's offer is all the more unusual because it does not neutralize Yahoo as a potential future competitor, at least explicitly.