The comments and opinions posted on My Desultory Blog belong to Rich Corbett and are to be taken subjectively. I have spent most of my career working in the printing and publishing industry, both in the traditional "ink on paper" world and electronic Internet based environment — Linkedin profile. After college (Undergrad: Ohio Northern University, Grad: Miami University).
In 1982 I moved to northeastern Ohio (Cleveland/Akron), married, had children and spent 13 great years with a young family while starting Consolidated Printing and Publishing Co. In the late 1990s, we moved to Cincinnati, Ohio where my wife Brenda and I currently reside. Our daughter Katelyn and her husband Drew Oostra are both doctors in Toledo, Ohio and our son Taylor, an alumni of Miami University (Oxford, Ohio), is the Clermont County Planner working in Southwestern Ohio. Among my "too many hobbies and interests" are aviation, alternative energy, old and new cars, investing, photography, technology and of course sailing. My blog has included thoughts on these subjects and others since early in 2005.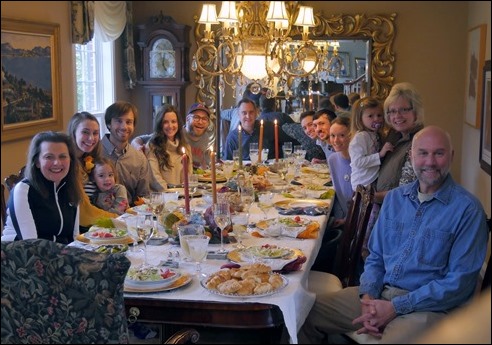 Thanksgiving dinner with the Corbett, Oostra and Ankrom families (2019)


Granddaughter Robots Annalyn and Ellerie – January 2023
---
If you are having trouble seeing ALL the content on MyDesultoryBlog, be sure you
have registered and are logged in as a subscriber. See this link.
Please read Privacy Policies