Posted By RichC on May 1, 2018
New tools are my jewelry when it comes to presents … and Brenda agreed to buy me a new 12" Hitachi sliding compound miter saw so I could more easily work on a couple of projects (after promising to do them this year). Hm, what have I gotten myself into???

The first project is to use it to cut some crown molding (yet to be done) on the Condo kitchen upgrade I've been working on the last couple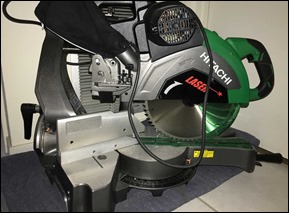 of trips to Florida. So far this "mid-priced" Hitachi is impressive. It stood out due to where I eventually plan to use it – the basement woodshop; it has a peculiar sliding arm that extends forward compared to competing models which permits it to sit closer to a wall. It is still pretty bulky, but what other "portable" 12" sliding dual-bevel compound miter saw isn't (they are all bulky)?
Speaking of the condo kitchen upgrading, here's a panorama photo (below) at the new ceiling, conduit electrical boxes in the ceiling, new electric for under counter lighting and microwave hood/vent … as well as first strip of Ikea kitchen cabinet hangers.  Slow progress, but limited time and all as a one-man-job (the 4 x 8 ceiling drywall wasn't fun!)