Posted By RichC on October 18, 2021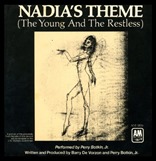 Last week I heard Nadia's Theme playing on SiriusXM 70s on 7 while driving and it brought back memories of listening to Henry Mancini's orchestra as well as the 1976 recording by Perry Botkin Jr and Barry DeVorzon.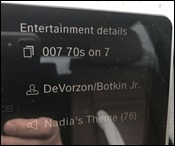 Hearing the music isn't exactly the same as the quoted comment below the break … or of the TV soap opera "The Young and the Restless" … but it was at a time I was contemplating my future and pondering what I might do and who I might spend the rest of my life with; both versions are beautiful Music Monday pieces for that!
| | |
| --- | --- |
| | "Nadia's Theme" by the Henry Mancini Orchestra |
| | |
| --- | --- |
| | "Nadia's Theme" – Barry DeVorzon & Perry Botkin Jr | 1976 |
About Nadia's Theme (Cotton's Dream) …
The piece the duo composed for Bless the Beasts and the Children film was originally titled as "Cotton's Dream." However, it was re-titled as "Nadia's Theme" as the sports program Wide World of Sports broadcast a montage of Romanian gymnast Nadia Comaneci doing her routines during the 1976 Olympics in Montreal, with that music on the background (Comaneci herself, though, never used the song in any of her floor exercises). Since the song was heard on the television, viewers began to flood the producers with requests.

Botkin himself re-arranged "Nadia's Theme" specifically for the Young and the Restless. The theme music, released on A&M Records, became a chart success in 1976, peaking at #8 on the Billboard Hot 100 and the Billboard's adult contemporary charts apiece. "Nadia's Theme" stayed on the Hot 100 for a total of 22 weeks. The single's album, Nadia's Theme (The Young and the Restless), peaked at #42 on the Billboard 200 chart.

"Nadia's Theme" also won the Grammy for Best Instrumental Arrangement in 1978. It has now become an oldies classic tune and one of the easy listening favorites.