Posted By RichC on March 23, 2018

Here's some advice from someone who as blogged daily since 2005 — AVOID using data, photos, video, etc archived on other services. Over the years, I have been frustrated by "what seemed great at the time" using services offered by companies who specialize in hosting data for users.
A little history: It started for me when shopping around for the best "host" for my business website — cppnet.com. I opted to host on a Canadian server promising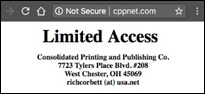 better service, support and low prices. Unfortunately after also using them to host some rudimentary websites for my customers as well, they sold out and I lost direct control of my data and more importantly the domains I handled. Months later I was able to retrieve, but not without significant effort.
It was about that point I opted to run my own servers and offer space on them to my customers … mostly as a way for me to save their printed jobs and archive their files (it is amazing to see the Akron Audubon Newsletter issues go back to 1997!). But times change and eventually cloud services take over the local archival duties.

As for blogging, off-loading bandwidth and data intensive video seemed like the only way to stream data back in the day … except they once again, users are dependence on the company(ies) they choose to use. One of the obvious choices initially was Google Video. Unfortunately data saved and served with them is now defunct as of 2012 (after purchasing YouTube). As for the afore mentioned, YouTube is notoriously shortsighted when shutting down a users account. Practically all my early video (home video and otherwise) were deleted after I including a 3 minute segment (properly credited) of Ed Begley Jr talking about biodiesel with Oprah. That's the video gripe.