Posted By RichC on May 13, 2018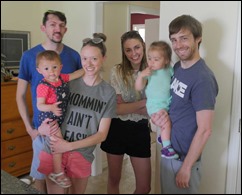 So far we are two for two in my brother and I getting our families ALL together twice each year as we are planning. This past weekend was to his house after Katelyn, Drew and Annalyn spent a couple days with us back from their trip to the Smokey Mountains.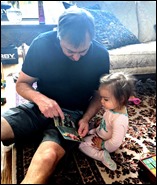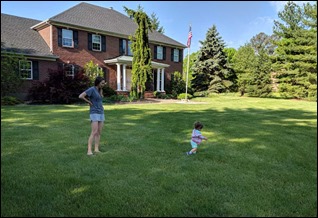 We all had a good time both hanging out at home and visiting at Ron and Claire's house.
First a few catch up photos from Drew and Katelyn's Google cloud; it is great to be able to "swipe" a few of their smartphone photos to add to my blog, not that I really need my mug in photos (thanks Drew!). Annalyn is running everywhere nowadays so it is a good thing I have the "nautical gates" rigged up on our stairs … and long grass hardly stops her when sprinting around outside, so keeping a close eye on her around the pool is important (she starts her first swimming lessons next week!)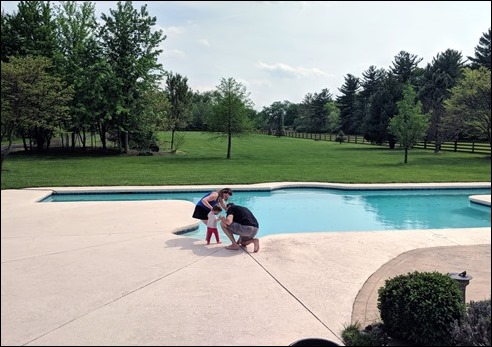 I tried on Katelyn and Drew's fancy new hiking backpack and then wondered just how safe our old one was??? It had me wondering if we were living on the edge hiking around with a backpack that could dump them on the first stumble … or if today's safer high quality packs are just overkill?
Since my brother lives near Tipp City Ohio just north of Dayton on the Great Miami River, it is easy for him to get out the canoe and kayaks for a paddle down the river on a nice day. So the grandparents watch Keira and Ben's Teagan along with Katelyn and Drew's Annalyn giving them the afternoon to catch up on "life for new parents." They all had fun … including Taylor. Jaben checked in before he headed off to work, but I think all enjoyed saying hello to each other. Archiving a bunch of photos below.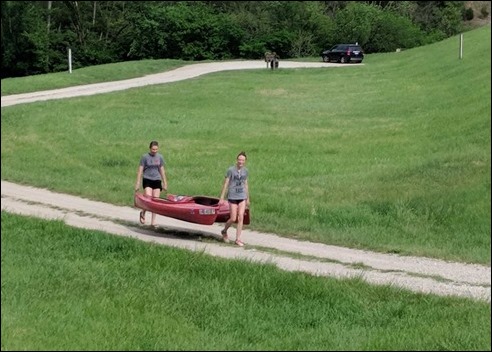 Also … while my brother was sorting a few leftover items from our parents' boxes of "stuff," he ran across one of the earliest envelopes mailed to my dad from when I started my CPP (Consolidated Printing and Publishing Co) business. I've always used the 1986 year as my start date, but "yes, I did" start while working part time out of the garage and basement from our small house in Aurora, Ohio while renting an office in Pioneer Place. The following year (1986) we bought the building in Cuyahoga Falls and then I started working full time at it. So really, the start was 1985 … good memories!