Posted By RichC on July 13, 2020
Last weekend, while on Facebook catching up on family goings-on, Mary Chapin Carpenter had a live chat as quite a few musicians have been doing.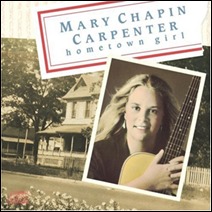 The video conversation she had with fans from her front porch reminded me of the 1980s when listening to a bit more Country and Folk music as that genre gained popularity in the US.
As politics heat up and summer drifts into the hot steamy days, a little gentle music for Music Monday from Mary Chapin Carpenter's older 1987 album Hometown Girl may help sooth the soul.
A Lot Like Me
Mary Chapin Carpenter | 1987
Hometown Girl
Mary Chapin Carpenter | 1987