Posted By RichC on February 15, 2021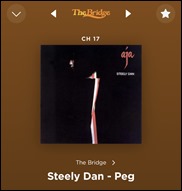 Well I'm still stuck in the 1970s for today's Music Monday, but this time it is some jazz rock from the group Steely Dan … and band leaders Donald Fagan and Walter Becker.
I can still see myself (a bit younger and uncertain of the future) hanging out with my college roommates in the dorm room or apartment (senior year) flipping the vinyl album Aja so we could listen to track one on the B-side – Peg.

I have mentioned Steely Dan music before when posting on the Lexington Lab Band … and they do a pretty good job with the song too (below).