Posted By RichC on April 30, 2017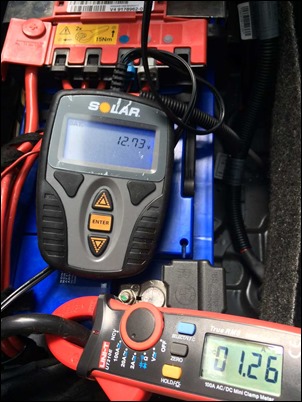 The BMW X5 35d is still without a new battery as the replacement batch is still not available to ship. I'm hoping the new mid-May date for delivery will not be postponed again.
Last week just as I was running out the door for the airport, the car would not start again. Seemed to have happened out of the blue and a quick check of the battery voltage read 10.76 volts … not enough to start the car even with the jumper pack. I added the charger and could not get it to a starting voltage before needed to leave, so left it on the charger for a few days and took the "old reliable" 1982 Mercedes 300D Turbodiesel. It seems amazing that I have more confidence in that old diesel than the newer 2010 BMW … but there is obviously something wrong. Saturday I tinkered a bit to see if I could spot a big enough phantom leak in the system to take a fully charged battery down to 10.76 volts over night, or if there is truly a bad cell in the new AGM battery. Every reading I pulled on the battery indicated "BAD" so still assume that the battery is at fault. BUT … I've been monitoring the drain on the battery and at its fully shutdown "low" drain mode, it is still pulling about 1.26 amps (that is not enough to drain the battery IMHO and part of that drain is the small red "close the rear hatch" light that stays on even after disconnecting the normal courtesy hatch open lights).