Posted By RichC on January 22, 2007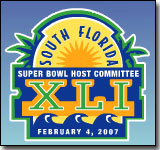 Some great NFL football was played today, especially the AFC game in Indianapolis — not many would have called the NFC game in Chicago all that great. Unfortunately, there was never really much consistency from the New Orleans Saints in their 39-14 lost to the Chicago Bears. In my opinion it was a rather poor team performance. That aside, the Chicago Bears won decisively and are the NFC Champions; they will take on the Indianapolis Colts this February 4th in Miami for the forty-first Superbowl.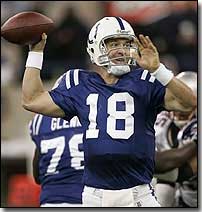 As I finish writing this, the Colts lead by Coach Tony Dungy and his quarterback Peyton Manning, defeated the team of the decade, the New England Patriots. As many might say … "its about time!" The game was nearly a blow-out, in that the first half belonged to the Patriots who were leading at one time 21-3. But come second half, both the offense and the defense of the Colts, with the 12th man advantage, stepped it up. They came back with determination that looked scripted in Hollywood, and closed the gap with the Manning lead high powered offense every team fears. Boom! — as John Madden would say, and by the two minute warning in the fourth quarter the Colts were right back in it. The game came down to a final push by New England with one minute and two timeouts left in the game. Against most other teams facing limited time and an entire field one might feel reasonably comfortable with a 4 point lead … but this was New England quarterbacked by mister big game, Tom Brady. Thankfully for Peyton Manning and his team this year was not a déjà  vu moment; Brady didn't march down for a score as he and his team have in so many past championship games and the Colts won 38 – 34. Wow … what a game — I don't see how the Superbowl will be able to stand up to this?