Posted By RichC on April 26, 2022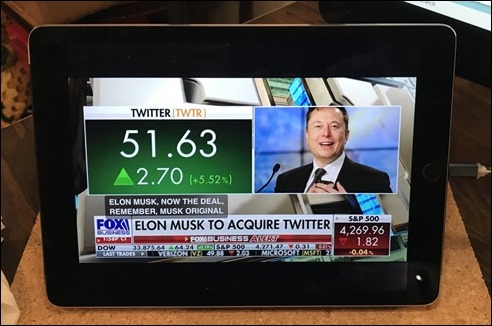 The financial markets have been following the Federal Reserves messaging regarding tightening their easy money policies and has been selling off the last few days. The more aggressive, but late stance to slow inflation is one needed piece of the puzzle … although also heights concerns over slow growth or even a recession. That news aside, the big news for Monday was that the social media network known as Twitter ($TWTR) is going private.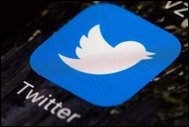 After rushing to put a "poison pill" in place last week to discourage a hostile takeover of the company, the board accepted an offer and will be purchased by billionaire Elon Musk.
Musk has been on a mission to counter the bots and Silicon Valley's politically left-leaning censorship of speech … and their attack on libertarian principles. He is using his billions to buy back a small bit of free speech with Twitter (@richc) – especially for political conservatives; there has been an erosion of who and what are being heard in our schools, universities, the mainstream media, big tech social media platforms and in cities/states controlled by progressive Democrats. The deal put together by Elon Musk is said to be worth $44 Billion and will likely set up a management and employee struggle. From an investor's perspective, it will be a good deal as shareholders will receive $54.20 per share when the deal is finalized.
The timing couldn't be more interesting with a midterm election is 6 months away after the silencing of conservative pundits, politicians, news stories and outlets happened in 2020. This new ownership promises to open the Twitter public square, although it is yet to be seen. The timing is even more interesting after big tech colluded in shutting down a rising social media competitor last go around with Parler who relied on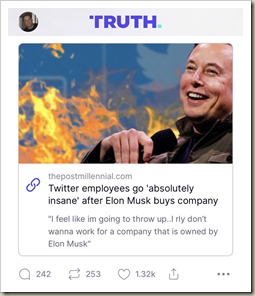 Apple iOS and Google Android last go around, as well Silicon Valley and Amazon servers. To many, it seemed to be a coordinated effort to prevent President Trump reelected and those he endorsed from getting elected. It worked as Democrats now control the House, Senate and White House.
Now along with Twitter under private ownership, there is also a new conservative startup social network or micro blogging platform backed by Trump called, Truth Social ($DWAC). This new network claims to be more accepting, although I sense it will be primarily used by conservatives preaching to the choir and energizing their supporters. It is still in the start phase, but I was recently approved after being on a long wait list. Follow me @richcorbett.