Posted By RichC on April 28, 2012
Airlines say they are warehousing hundreds of iPads and other tablet computers and e-readers left behind by travelers. Carriers try to reunite the devices with their owners but are often thwarted by the lack of ID tags, password protection and Apple Inc.'s reluctance to track down owners based on serial numbers. — WSJ
Scott McCarthny's WSJ "The Middle Seat" column this past week made me wonder what would happen if I lost my iPad or phone? I figured it was well past time to come up with a way to help  a good Samaritan to return a lost device.
If you don't lock your device, it might not be too difficult for someone to sift through your private information and eventually find a way to contact you …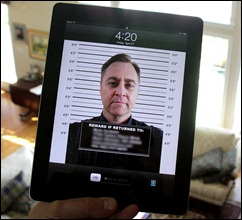 but for most of us, password protecting a computer, smartphone or tablet gives us at least "some" sense of data security (perhaps false?) The obvious and easiest answer is to engrave or attach a sticker to the back … or with devices with removable batteries, maybe inside the back cover (as I did with my Palm Pre
above).
One of the interesting features on the iPad is that the passcode lock still permits a person without the code to open the Photos app and display the "Camera Roll" by default as it is called by Apple. All your iPad photos are then shown in a slide show, but for a little more privacy, "one" album can be selected. Go through the Settings > Picture Frame > Albums > … then checkmark a particular album. In that album place a photo of your business card or get creative and offer a "Reward if found" photo. My thought was to include my "mug" thinking that someone might recognize me as I'm franticly searching for my lost iPad. Nevertheless, I figured it still my be a good idea to include an address, email address and phone number.


 (Thought: Unlike tablets, for a phone you might not want to use your cellphone number as the contact number).