Posted By RichC on April 28, 2013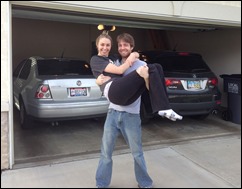 We drove Brenda's parents home to western New York last week and opening the farmhouse after a week or so of staying with us in Cincinnati. They were glad to finally get home from Florida. Brenda and I then hitched up the trailer and headed up to Columbus for Saturday. Our project was centered around moving a couple larger items out of Katelyn's apartment and getting them into their townhome. The weather was perfect (for an uncovered trailer) and the day with our newlyweds was very enjoyable.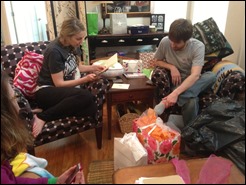 Katelyn and Drew fixed us a deluxe breakfast when we arrive and then opened a few more of their wedding gifts and cards in front of us before we started moving (and painting). Drew had put some of the collected photos from several social sites on a USB drive and gave us a slide show on the bigger screen — we also enjoyed hearing about their first night in downtown Cincinnati and their minimoon to Hocking Hills (not too many details). What a great time they had; they seem very happy.
minimoon — November 3, 2012 Urban Word of the Day

Short trip after a couple gets married in place of a full honeymoon.

My friends are taking a minimoon right after they get married. They are going on their actual honeymoon trip in a few months.