Posted By RichC on February 5, 2008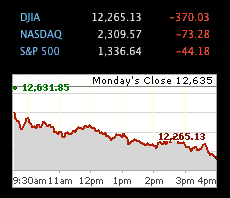 After a bit of recovery in the financial markets since January, the markets returned to fear as recession looms over Wall Street. All U.S. stock markets ended lower on Tuesday after data showed the services sector shrunk in January to the lowest levels since the last U.S. recession. Continued concerns over the credit worthiness of banks may cause Standard & Poor's to cut bank credit rating if it is forced to cut bond insurers. About the only lone bright spot in the day came after hours when Disney reported greater than expected sales and earnings for its latest quarter. It had strength at its ESPN cable network and its theme park business — and I know who to thank for that. (inside joke)
😉
The media and entertainment company reported revenue of $10.5 billion for its first quarter, up 9% from a year ago, and beating analysts' forecasts of $10.04 billion.

Disney reported a net profit of $1.25 billion, or 63 cents per share, down 27% from the same period last year but beating consensus estimates of 52 cents per share. Last year's results were lifted by gains from asset sales. Excluding those gains, Disney's earnings for this year's first quarter rose 29%.

Shares of Disney rose nearly 5% during after-hours trading Tuesday.