Posted By RichC on July 26, 2020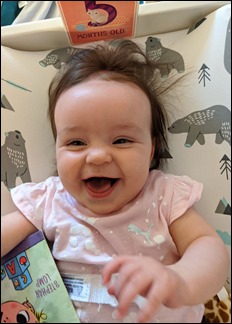 What kind of grandparent would I be without using my personal blog to keep track of and archive photos of my grandchildren?
This past week, Ellerie turned 5 months old … yes ALREADY! She is as happy and healthy as can be, thanks to having a loving big sister, pediatrician mom and great dad. Katelyn forwarded a couple "5-month card" photos of Ellerie and keeps us regularly in the loop as to their busy life … now that Katelyn has been back to work for a couple of months. So far, all is well.
We are looking forward to a few days together and a few extra days with just Annalyn. Projects ready!


EDIT and EDIT again: Missed including Katelyn .. so here's a photo from Saturday and one from 7/29 with Ellerie starting to eat cereal! Wow!