Posted By RichC on July 27, 2018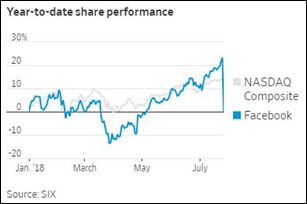 If you have any vested interest in the stock market, Thursday's huge drop for social networking's behemoth Facebook ($FB), demonstrated what go up, can come down … and can come down fast! The "biggest ever one-day loss in market value for a U.S. listed company" happened yesterday and saw investors in $FB (or any pension fund, mutual fund or ETF holding shares) losing a whole lot of the gains they have seen this year.
The hugely successful tech company lost nearly $120 BILLION in market value in one day as shares of $FB fell 19% to close at $176.26 on Thursday. As the Wall Street Journal pointed out, "technology stocks have ripped higher, outpacing the broader market" all year and were the place to be invested for 2018. At some point the optimism for growth never-ending was bound to change and DID after Facebook reported slower than expected revenue growth was reported on Wednesday after market close; those paying attention knew Thursday was going to be an ugly day. Perhaps the question for many after Netflix's miss Q2 miss a week ago and now Facebook's tumble … is whether the FAANG stocks are now out of favor?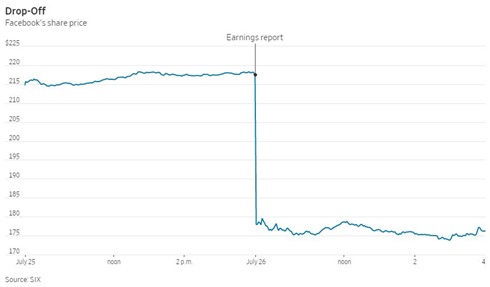 aa