Posted By RichC on April 21, 2008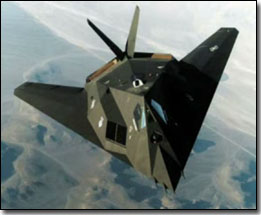 The USAF officially retires the F-117 Nighthawk on April 22, 2008 with the final 4 planes making their last flights. The stealth fighter began its service in 1981 as a first of its kind aircraft that could eliminate several targets on one mission. It night flying stealthiness proved its worth in operation "Just Cause" in 1989 and against destroying communications and radar sites in Iraq during "Operation Desert Storm" in 1991. Despite flying missions into heavily defended airspace, not a single F-117 Nighthawk was ever shot down or damaged. To arrive in Kuwait, the F-117 flew 18.5 hours non-stop from Holloman AFB — a record for single-seat fighters still standing today.
It continued to perform even after the turn of the century during "Iraqi Freedom" and Enduring Freedom" military operations, but finally after 27 years of service the aircraft will retire. The F-117's retirement will ease the budget strain and allow the more comfortable expansion of the F-22 and B-2 bomber squadrons. Its a bitter sweet day for all who viewed the F-117 and its crews as paramount to our nation's military superiority. Thanks to all.

The F-117A production decision was made in 1978 with a contract awarded to Lockheed Advanced Development Projects, the "Skunk Works," in Burbank, Calif. The first flight over the Nevada test ranges was on June 18, 1981, only 31 months after the full-scale development decision. Streamlined management by Aeronautical Systems Center, Wright-Patterson Air Force Base, Ohio, combined breakthrough stealth technology with concurrent development and production to rapidly field the aircraft.
The first F-117A was delivered in 1982, and the last delivery was in the summer of 1990. Air Combat Command's only F-117A unit, the 4450th Tactical Group, (now the 49th Fighter Wing, Holloman Air Force Base, N.M.), achieved operational capability in October 1983.
During Operation Desert Storm in 1991, F-117A's flew approximately 1,300 sorties and scored direct hits on 1,600 high-value targets in Iraq. Since moving to Holloman AFB in 1992, the F-117A and the men and women of the 49th Fighter Wing have deployed to Southwest Asia more than once. On their first trip, the F-117s flew non-stop from Holloman to Kuwait, a flight of approximately 18.5 hours — a record for single-seat fighters that stands today.
In 1999, 24 F-117A's deployed to Aviano Air Base, Italy, and Spangdahlem AB, Germany, to support NATO's Operation Allied Force. The aircraft led the first Allied air strike against Yugoslavia on March 24, 1999.
The F-117A program demonstrates that stealth aircraft can be designed for reliability and maintainability. It created a revolution in military warfare by incorporating low-observable technology into operational aircraft. The aircraft receives support through a Lockheed-Martin contract known as Total System Performance Responsibility.
Source: http://www.af.mil