Posted By RichC on April 28, 2009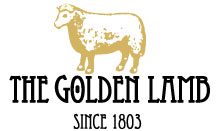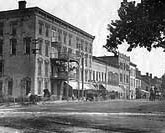 An article in our local paper highlighted the Golden Lamb restaurant and hotel in historic Lebanon, Ohio this week. It has been in business for75,000 consecutive days. That's long enough to have seen a civil war, two world wars and 40 presidents. The celebration on April 27th marked the 206 years of business for this notable Ohio "house of public entertainment," as it was called when Jonas Seaman purchased the $4 license in 1803. The Monday celebration was marked by several national, state and local political leaders recognizing the historic and successful long standing operation.
Golden Lamb celebrates 75,000 days in business
By Justin McClelland, Staff Writer,  Monday, April 27, 2009

A lot has happened in the past 75,000 days. Two world wars were fought. Forty presidents have taken office. An entire nation was built. But through it all, the Golden Lamb has stayed in business.

The Golden Lamb celebrated its 75,000 consecutive day in business in Lebanon on Monday, April 27. National, state, and local political leaders appeared at the Lamb Monday to help celebrate its anniversary.

"The Golden Lamb is the primary historic and economic anchor for Lebanon," said mayor Amy Brewer. "It has played an important role in the community for the past 206 years."

The restaurant and hotel first opened its doors on Dec. 23, 1803. According to historian John Zimkus, Jonas Seaman spent $4 to purchase a license to operate a "house of public entertainment." Because many people were illiterate, restaurants took their names from distinctive signs, such as a drawing of a colorful animal, that could be used as a guidepost.

The restaurant was situated on Broadway to catch stage coach traffic passing through town. Seaman served traditional frontier food such as wild turkey and bear and charged between five and 10 cents for a meal. As was the custom at the time, overnight guests did not rent rooms, only parts of a bed that they would share with others. Zimkus said for a reduced rate, guests could sleep on the floor.

In the 1930s (somewhere in its 40,000 day of business), Robert Jones, a college-age Dayton man with virtually no experience running a restaurant, purchased the Lamb. Jones was a history buff who refurbished the building to an early-1800s style and also emphasized the history in its marketing.

"He loved people," said Jones's grandson, Rob Portman, one of the Lamb's current owners and a 2010 Ohio senatorial candidate. "He would pour water for guests so he could interact with them."

Portman, a former U.S. congressman from the Cincinnati area and the director of the Office of Management and Budget under President George W. Bush, credited his grandmother with helping the restaurant survive the Great Depression.

"She kept the books and was the enforcer," Portman said. "Grandpa ran the restaurant, but she had the mind for business."

Portman said the restaurant has survived hardship through being both innovative and keeping alive popular traditions that draw the community back time and again.

"The Golden Lamb has remained a consistent and reliable place for people to gather," Portman said.

General manager Ty Borger said he was already looking forward to the Golden Lamb reaching its 100,000 day of business, which according to his calculations will be Oct. 7, 2077.