Posted By RichC on February 20, 2011

Although I'm not a NASCAR fanatic, I do enjoy watching the Daytona 500 each year. This year a rookie named Trevor Bayne (age 20) ran a superb race with a strong Wood Brothers car to win the 2011 Daytona 500.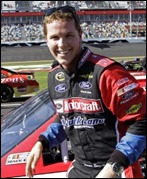 The drivers nowadays are unbelievably talented having to handle the 200 mph speeds of Daytona while juggling the chores that now include the busy radio chatter, partner negotiation and new this year a bumper ON bumper push/pull style of driving that makes the drafting of previous years pale in comparison. Talk about white knuckle driving.
Bayne inherited the lead from David Ragan for the second attempt at a two-lap overtime finish after Ragan was penalized for changing his lane position for the first green-white checkered restart.

In just his second career Sprint Cup Series start, Bayne held off Carl Edwards on the final lap to become the youngest winner in the 53-year history of the Daytona 500.

"I don't know where to even go," Bayne told his team over the radio, asking where Daytona's victory lane was located.

The race on the newly-paved 2.5-mile speedway also featured records for most lead changes (74), different leaders (22) and cautions (16).

Edwards finished second, followed by David Gilliland, Bobby Labonte and Kurt Busch, who had won the Budweiser Shootout and the second Daytona 500 qualifying race.