Posted By RichC on February 7, 2011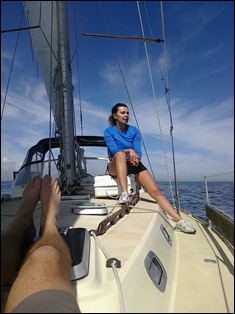 We took our shakedown sail on s/v Encore a couple days ago on our "new to us" sailboat last week. The weather in Florida couldn't have been better for the first "real" sailing (my previous seatrials don't count since Brenda wasn't with me).  Unfortunately as with most older boats, there are issues that need to be addressed – some high priority, like the depth sounder and frozen seacocks, others not so critical for coastal sailing but equally important: EPIRB, safety gear recertified or replaced, etc. Thankfully we didn't have anything overly necessary that prevented us from sailing in good weather.
Brenda had a chance to do some clean up above and below decks (teak brightwork need work) and I installed the new upgraded Raymarine X-5 wheel pilot and did some rewiring. Before leaving I pulled out the speed, log and depth sounder in hopes to get them checked out and working before I end up stuck in the mud … or worse.
I'll include a little video I took with my Palm Pre below … hmm, now that I'm back in Ohio with snow on the ground and freezing temps it even looks better than I remember. Can't wait to head back.