Posted By RichC on April 12, 2011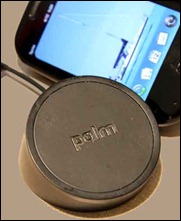 After a couple years of using two of the Palm Pre Touchstone induction chargers, they are great. Although I complain regularly that the battery in the Pre will not make it an entire day, it generally isn't a big deal since I keep one Touchstone on my desk and the other on my nightstand. About the only time I whine is when traveling in areas where my Sprint signal is weak … zap … the cloud synchronization, email checking, etc. can kill a battery in as few as a couple hours … I'm not kidding. I've complained  to both Palm and Sprint, but there doesn't seem to be a way to turn off the auto data sync (just the email sync), yet still keep the phone for calls on – the only answer from Sprint was to upgrade away from Palm. But as the saying goes … "I digress" … that was not the point of this post. 
I've been contemplating upgrading at least one of my desktop Macs (original intel Mac Mini I regularly use with Bootcamp and XP) and like the idea of eliminating wires … so as long as everything works well. I currently use an Interlink Electronics Bluetooth Mouse with my notebook computer and have been very please with it.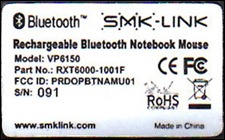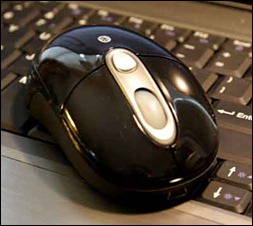 Still, it does require recharging once or twice per week … and than means digging out a USB cable and plugging it in for a couple of hours. I've been satisfied with this full sized mouse as compared to an early bluetooth mouse that required disposable batteries. While on the subject of 'wireless' … when it comes to computer keyboards, mice and trackpads, I've not been entirely convinced that they are ideal for my desk … until now. It looks as if Mobee Technologies has created a well designed "Magic Bar" fitting to be used with Apple's slick and slim Wireless Keyboard. This induction charging device allows the keyboard to sit on the "Magic Bar" and charge a proprietary cylinder (in place of the 2 AA batteries) The cylinder comes packaged with the hardware and can be charged through a USB port and draws a maximum of 270mA. The battery pack can be charged in about 6 hours and is rated at 500 cycles. Looks pretty nice if the price is right.

Unfortunately the device is not available at this moment, but according to Mobee can be preorder on May 15, 2011 and will ship on June 15, 2011.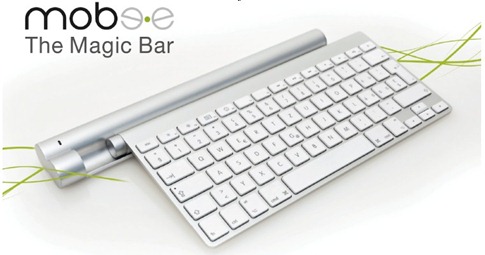 The Main Features

Wireless Charging Technology : Charging your Apple Bluetooth Keyboard & Magic Trackpad will be as simple as sliding your device in the Magic Bar™.
Compatibility : Work with Apple Bluetooth Keyboard (2xAA Battery Model) & Apple Magic Trackpad
A greener way to use your Apple Bluetooth Keyboard & Magic Trackpad™ : Stop trashing batteries, Stop disassembling your devices to change your batteries. Let the Magic Bar™ to manage everything and help protecting the environment.
A Cost Effective solution for Home, Travel & Office Use : The Magic Bar™ is cost effective after one year of Home Usage & six months of office usage. As an IT Manager, this will become your favorite solution for all your iMacs & MacBooks in Offices, Universities etc … You don't need to care about battery replacement.
USB Powered : Plug the base station to any USB port in order to allow the recharge, you don't even need an external power supply.
Recyclable : Made of Aluminum