Posted By RichC on February 19, 2012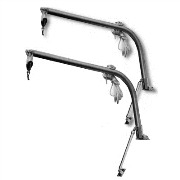 After trying a few do-it-yourself repairs on our old Zodiac, I gave up last week and took it to Gator at Lifeline Marine. He did the same soap check and visual inspection with me there, but couldn't find the air leak either … although he did comment on the aging fabric, sun damage and many scuffs and small cuts (nothing leaking though). So I decided to leave it with him and paid inspection and approved a limited amount for repair … probably the same cost as if he would have found it on the spot.
Anyway the dinghy situation has me planning ahead and looking at a few option … all of which are going to require a davit or custom built arch. I'm inching away from the custom designed with a welded up arch to support a heavier RIB and leaning toward a set of lighter duty davits so I can keep the Cape Horn self-steering gear (davits top right/steering gear in center below).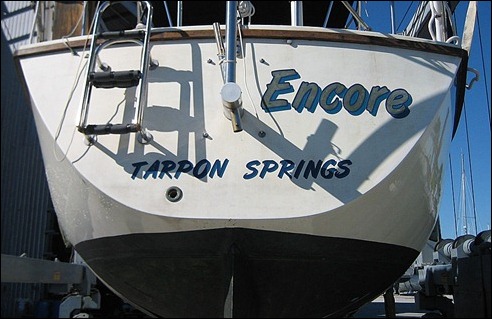 If I go the davit route, the structure can't be used to support additional solar panels or a wind generator, but will free up a few dollars for an aluminum bottom deep vee AB inflatable. Most sailors say that they are the premium and preferred inflatable as they offer a drier ride and bounce around less in a chop. They are lighter weight for both pulling up on a beach or hoisting in the above davits. The disadvantage is that they can't easily be field repaired as with fiberglass. One of my final thoughts is that the lighter 9 or 9'6" models can be powered with my existing outboard of modest horsepower and lighter weight. Compromises, compromises …
I've email good friend who I'm sure will have an opinion … very appreciated as well. He now works in the marine industry and has a lifetime of sailing experience (and circumnavigation under his keel); I value his advice – thanks ahead of time Mark!