Posted By RichC on October 18, 2012
Projects are getting done one at a time before winter arrives, but seems as soon as I can check one off the list, two more need to be done.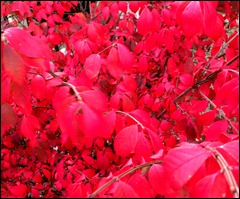 I've been repairing the tiles on the pool before closing for the season and on Wednesday evening sealed the new front porch pavers since I'm in town. The last few days I've also taken advantage of the nice weather and started hand digging the sump pump and downspout drains and even did a 4 hour drain snake rental to try and clear the pipe; the problem was spotted when we pumped our septic tank last week. I can't say I'm satisfied with the drains yet, but only a heavy rain will tell the whole story.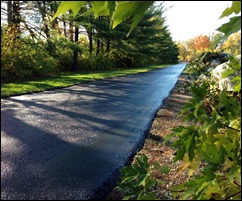 Last night while cutting the front lawn the  burning bushes were blazing and I was also surprised by all the blooming fall flowers. Another project is going to be the crumbling concrete on the front driveway … I have been pondering if it can be repaired or if it will need to be replaced (ideas?)
But today was also "seal the asphalt" day as the truck came just after I finished edging back the overgrowing grass. The guys put on two coats of sealer and lightened my wallet. It all has to do with the price of oil I'm sure … oh, and yes, our rear driveway being long!