Posted By RichC on November 24, 2013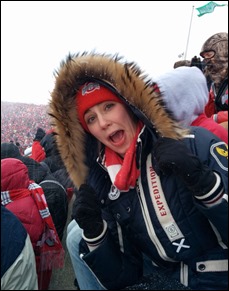 It has been a semi-busy and semi-cold weekend for yard chores, but I'm tackling them just the same since waiting for a dry "warm" Saturday and Sunday doesn't look promising. I started Saturday early and started to tick off the simple indoor items on my chores list thinking that it might warm up, but I was wrong. As noon rolled around the temperature dropped in the low 30s and the wind was blowing (but sun shining). I coaxed Brenda out to work on trimming the bushes in front of the house and even tried to get her mom to join us, although she was too comfortable with a book in front of the fireplace to come out. We did get the leaves finished up and all of the landscape trimmings put on the fire pile … so we deserved a meal out at Spinning Fork, our favorite family owned restaurant (it is great when the owners know you well enough to give you a hug).


Drew and Katelyn were at the OSU – Indiana game with the Oostras and enjoyed the lopsided victory … 42-14. The snow flurries were swirling in Columbus, but no doubt the crowd filled stadium was warm with enthusiasm (Drew sent the "sharp" photo from his new Nexus 5 above).
In other news for the week, I passed my exam in order to upgrade my Amateur Radio license to General. This gives me the added HF frequency privileges that are needed in order to participate in a few longer range Nets and something I want in order to set up my Pactor IIe modem (working to upgrade) for Winlink or Sailmail email (yes … I'm still thinking cruising/sailing might be in my future).