Posted By RichC on May 24, 2014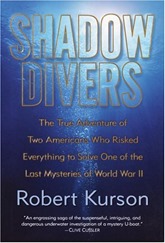 After seeing some book advice from a friend, I checked with Nooeo.com and downloaded a $5.00 ebook to my Kindle app on my iPad for an upcoming trip. Since Elizabeth Bernstein is also an avid reader, sailor and Scuba diver, her recommendations are usually spot on for me.  After reading the forward to Robert Kurson's 2004 book Shadow Divers about a lost WWII German U-boat  off the coast of New Jersey, I was hooked.
The non-fictional story is written around a couple of polar opposite divers who learned to respect each other. Richie Kohlar and John Chatterton discovered an unknown World War II submarine eventually known as U-869. The dive team called the mysterious ship the "U-Who" until their research narrowed it down. The 1991 find spawned a 2000 PBS NOVA program called Hitler's Lost Sub and a follow-up book challenging the facts presented in Shadow Divers. 
There is also a major motion picture in production based on the book, although the once 2013 release date has now been put on hold.  While waiting for what should be a blockbuster, check out the uploaded YouTube video narrated by John Chatterton.