Posted By RichC on June 4, 2014
A few years ago, Brenda and I started to convert our family video tapes to DVD … back when our tape devices (VHS machine and Camcorders) still worked, but recently I noticed my old 8MM camcorder no longer would play tapes.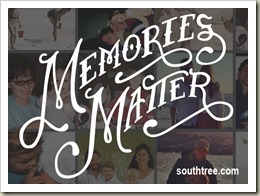 In fact, the camcorder munched one of the tapes when my daughter Katelyn wanted to show Drew that she indeed was a figure skater and that we had videos of her competitions to prove it (see early clip when she was 11 below).  I decided "no more!" … I needed to finish the job and get the rest of our tapes converted to DVD before it was too late.
Now sending away the original copies of our VHS, 8MM and DV cassettes to just anybody was not something I took lightly, so after researching a few companies, I decided on Southtree. They were terrific concerning the three criteria that I really cared about. They were 1) priced competitively, 2) produced quality DVDs and 3) were exceedingly professional.  They sent an email each step of the way – such as when they received my order, confirming each step of processing and then eventual shipping. They were not "speedy," but that was not my concern particularly since my deadline was for an anniversary present and was a month off. I had no problem waiting. Thankfully everything went smoothly and I have all our originals back and safely boxed up (planning to put them in a spare firebox). 


Advice: If you are planning to convert your old video tapes to DVD or another format, don't put it off until they are damaged or degraded. Do it now and consider Southtree.
*** This was not a paid post or incentivized in anyway by Southtree.