Posted By RichC on May 16, 2016
While listening to Pianobar (Pandora app) on the Raspberry Pi this weekend, an oldie from Barry McGuire called Eve Of Destruction (1965) was "hypothetically spinning on the turntable" and reminded me how human history continues to repeat itself. We cycle through anger, hatred, genocide and war over and over again, no matter how destructive and inhumane the behavior is — humans are innately flawed. (Interesting note: Barry McGuire became a pioneer in contemporary Christian music and recognized the human condition – John 3:16. McGuire became a born-again Christian in 1971 — click for his personal video testimony.)
| | |
| --- | --- |
| | Barry McGuire| Eve of Destruction – 1965 |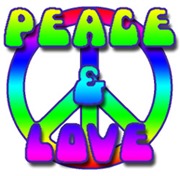 Thankfully to this point we've avoided a nuclear holocaust, but after 8 years of President Obama's appeasing enemies whom have little regard for their own citizens let alone the west (Iran, North Korea, elements in Pakistan, China, Russia), it does seem as if we are inching toward a higher risk existence once again. For as much of the "peace and love" movement went astray itself, it would have been better to have embraced the "smile on your brother, everybody get together, try to love one another right now, Right Now, RIGHT NOW."
| | |
| --- | --- |
| | Youngbloods | Get Together – 1967 |
The 1960's music and thoughts of the ugliness of war, partially due to finishing Roger Pulvers book Star Sand (closing months of WWII in Japan) … and having just watched several  Vietnam television documentaries back to back … had me remembering the "never again" mindset I had when young. If you need a primer on how terrible war is … just watch the slideshow in the below Rolling Stones 1969 Gimme Shelter song.