Posted By RichC on April 25, 2017
The granite countertops were installed last week, still putting us a couple of weeks from having a usable kitchen as the construction continues to crawl along (no plumbing, cooktop, backsplash, trim, electrical or paint).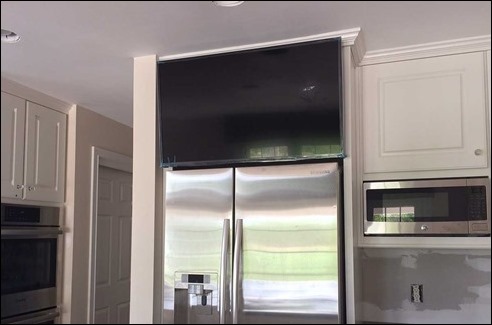 It is tough being without a functioning kitchen and washing up dishes in the laundry room is getting old … but I took the weekend lull to work on my tweaks — the "slider system" and mount for the 4K TV. I've opted to replace the swinging doors in the cabinet above the refrigerator with a slider panel that holds the TV, MOCA and cable box all on one panel. When finished, the slider is semi-temporary and requires only a single 110 volt plug (inside the cabinet) to power the 3 devices. All that will be visible is the 43" flat panel (unless peaking behind the tight fitting mount) … and it can ALL be removed by sliding off the white panel with all the TV hardware to the right (photo above). The goal is to be able to return to normal kitchen cabinet doors with 4 screws if we should ever need to go back to "no TV in the kitchen" — my wife's preference, although she has not seen the above just yet (gulp!).
As Colonel John "Hannibal" Smith (George Peppard) said in The A-Team … "I love it when a plan comes together."