Posted By RichC on April 27, 2010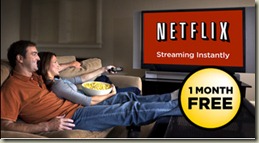 Let me know if you are interested in movies, documentaries and TV programs from Netflix and I'll forward the first ten names for ONE month of FREE … so as long as you are not currently a Netflix member.
Netflix's offers a solid mail delivery program and best streaming over the Internet service (in my opinion) – it also works with the new Apple iPad.
Usually the promo is for 2 weeks free (previous post), but the one month promotion is running again – send me an email.
Info from NetFlix:
Who wouldn't like a free month of movies? Forward this email to your friends & family, and they'll get a FREE month of Netflix.
This special offer for your friends & family expires 06/15/2010 so forward this email today.
–Your friends at Netflix

*Free Trial Offer: Expires 06/15/10. Cannot be combined with any other offer. Current and previous members and their households are ineligible. Limit ten Free Trials per email priority code. Internet access and valid payment method required to redeem offer. One month free trial offer is only for the 1 DVD out at-a-time (Unlimited) plan, which is $8.99 a month plus applicable tax. Netflix will begin to bill your payment method for the Netflix plan selected at sign-up at the completion of the free trial unless you cancel prior to the end of the free trial. Subscription Periods: Your Netflix membership is a month-to-month subscription that you can cancel at any time. Click the "Your Account" button for cancellation instructions. No refunds or credits for partial monthly subscription periods. Watch Instantly: Not all DVD titles are available to watch instantly. Members may watch instantly only within the 50 United States and the District of Columbia. A Netflix ready device and a broadband Internet connection are required to watch instantly on your TV. Netflix ready devices are manufactured and sold separately by entities other than Netflix. Xbox LIVE Gold membership required to watch instantly via the Xbox 360. Blu-ray: An additional monthly fee applies for Blu-ray access. Delivery: One business day delivery based on more than 97% of our members being within one-day postal delivery zones. For more details: Please visit www.netflix.com/TermsOfUse for complete terms and conditions, including shipping and delivery details. Netflix reserves the right to change terms and conditions at any time. Netflix is a trademark of Netflix, Inc.
SRC: 20100426TAF_1
(c)1997-2010 Netflix, Inc. 100 Winchester Circle, Los Gatos, CA 95032