Posted By RichC on January 2, 2017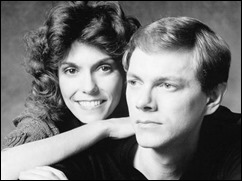 With all the music posts and comments through the years on MyDesultoryBlog, it is surprising The Carpenters were not mentioned. As a teen in the 1970s, I thought Karen Carpenter's voice was vocally near perfect (also because a girl I liked listened to them too). Hey, I think even my parents enjoyed the music?
I should post their entire Greatest Hits, but a single favorite will have to do.
  Rainy Days and Mondays
The Carpenters – 1971
Although I've always enjoyed the music and Karen Carpenter's voice, it is not until recently that have appreciated the lyrics to this song … not that I'm "talkin' to myself and feelin' old" on this Monday … even if there is some truth to that line! 🙂
—
Talkin' to myself and feelin' old
Sometimes I'd like to quit
Nothin' ever seems to fit
Hangin' around
Nothin' to do but frown
Rainy days and Mondays always get me down

What I've got they used to call the blues
Nothin' is really wrong
Feelin' like I don't belong
Walkin' around
Some kind of lonely clown
Rainy days and Mondays always get me down

Funny, but it seems I always wind up here with you
Nice to know somebody loves me
Funny, but it seems that it's the only thing to do
Run and find the one who loves me (the one who loves me)

What I feel has come and gone before
No need to talk it out
We know what it's all about
Hangin' around
Nothin' to do but frown
Rainy days and Mondays always get me down

Funny, but it seems that it's the only thing to do (only thing to do)
Run and find the one who loves me

What I feel has come and gone before
No need to talk it out
We know what it's all about
Hangin' around

Nothin' to do but frown
Rainy days and Mondays always get me down
Hangin' around (hangin' around)
Nothin' to do but frown

Rainy days and Mondays always get
Me down
Songwriters: MOORE/WILLIAMS/TRAVIS
Rainy Days And Mondays lyrics © Sony/ATV Music Publishing LLC, Universal Music Publishing Group