Posted By RichC on May 28, 2017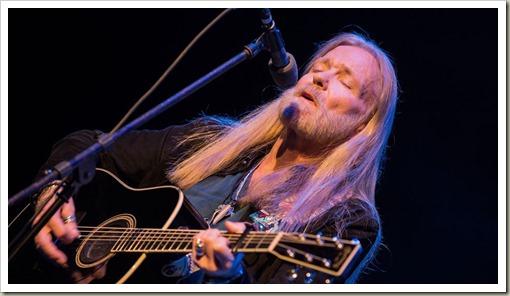 The news on Saturday was depressing as that it was announced Gregg Allman passed away at 69 … I was just commenting about a few of my Music Monday posts that included Coyotus Maximus (his self-described nickname) and the Allman Brothers Band since our politics did not mesh. A talented and musically influential force not just for me, but for the millions who enjoyed the southern rock sound that was pioneered by the Allman Brothers.
Gregg Allman, the singer, organist and founding member of The Allman Brothers Band, died Saturday, his publicist said. He was 69.

Allman died Saturday at his home in Savannah, Georgia, publicist Ken Weinstein said.

Allman, who is credited with spawning Southern rock, cancelled some of his 2016 tour dates after announcing in August that he was "under his doctor's care at the Mayo Clinic" due to "serious health issues." Later that year, he canceled more dates citing a throat injury. And in March 2017, he canceled performances for the rest of the year.

The Nashville rocker, known for his long blond hair, was raised in Florida by a single mother after his father was shot to death. He idolized his older brother Duane, eventually joining a series of bands with him before finally creating the nucleus of The Allman Brothers Band.

The original band featured extended jams, tight guitar harmonies by Duane Allman and Dickey Betts, rhythms from a pair of drummers and the smoky blues inflected voice of Gregg Allman. Songs such as "Whipping Post," "Ramblin' Man" and "Midnight Rider," helped define what came to be known as Southern rock and opened the doors for such stars as Lynyrd Skynyrd and the Marshall Tucker Band.

In his 2012 memoir, "My Cross to Bear," Allman described how Duane was a central figure in his life in the years after their father was murdered by a man he met in a bar. The two boys endured a spell in a military school before being swept up in rock music in their teens. Although Gregg was the first to pick up a guitar, it was Duane who excelled at it. So Gregg later switched to the organ.

They failed to crack success until they formed The Allman Brothers Band in 1969. Based in Macon, Georgia, the group featured Betts, drummers Jai Johanny "Jaimoe" Johanson and Butch Trucks and bassist Berry Oakley. They partied to excess while defining a sound that still excites millions.