Posted By RichC on August 2, 2017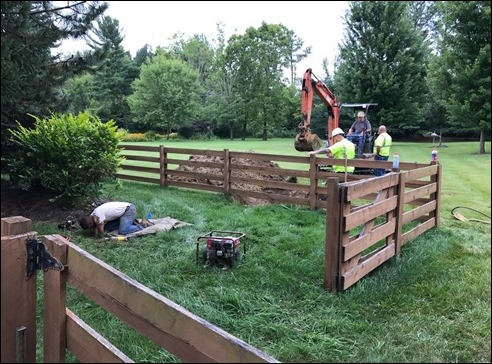 Once again we're dealing with BlueMax pipe (polybutylene plumbing), this time thankfully it is not on our nickel or is due to a flooded basement. I notice water bubbling from the water meter pit in our yard yesterday and after Butler County came out to look at the meter, he knew right away it was the "plastic" pipe connected to the "county water" side of the meter that was leaking. So today the contractor was out to replace it with copper and took care of the neighbor's pipe too.
This pipe starts at your water meter and travels underground, through your yard and comes into your home either through your basement wall, your crawlspace, or through the concrete in your slab. In older homes, this pipe is made of copper, pvc, galvanized steel, or the dreaded "blue poly." In the ground, copper oxidizes (think green rust). Galvanized steel rusts terribly, releasing rust particles into your drinking water. Not to mention that all that rust causes potentially serious leaking issues. PVC has a tendency to crack with temperature changes. And blue polybutylene? Well, if you aren't one of the hundreds of thousands of homeowners who suffered through this plumbing nightmare of a product, we'll give you a quick summary.

Blue polyethylene (later replaced with a similarly faulty product called BlueMax) is a type of plastic water pipe designed to be a cheap alternative to copper plumbing. It was, until homeowners started experiencing high water bills and pools of water in their yards. It was then that we learned that blue poly was particularly susceptible to pinhole leaks and cracking due to the natural chlorine content of our water. The chlorine attacked the walls of the pipe, weakening it to the point of small pinholes, and sometimes complete breakage. There was a large class-action lawsuit filed against the manufacturer of blue poly in order to reimburse all the homeowners that were forced to have their waterlines replaced due to the faulty product. This lawsuit is now over and is no longer in effect.