Posted By RichC on November 24, 2018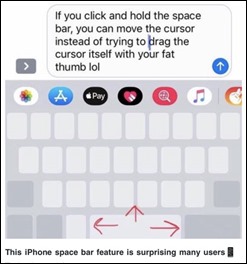 This really should have been yesterday's Tech Friday post, but between the holiday with turkey, family and football watching on Thursday and another market drop and oil plunge of another 7.7% to $50.42 on Friday my focus was elsewhere.
As for a tech tip, a viral tweet last week caught hold when it really shouldn't have been anything new.  The iPhone text editing tip suggests that instead of "fat fingering" the cursor to a text location, that holding a finger down on the spacebar and dragging  the cursor to a new location makes the task easier. Hm, this something users have been doing for years … and BTW, it is not only the spacebar, but click/hold any place on the virtual keyboard to move the cursor to a new location works too.
A three-year-old iPhone function which was apparently largely unknown to many has gone viral on social media – and it could change the way you text.

Despite being available on iPhones for the last three years, the keyboard feature has recently been discovered by thousands of Apple users – after Krissy Brierre-Davis shared her 'discovery' on Twitter.