Posted By RichC on March 30, 2019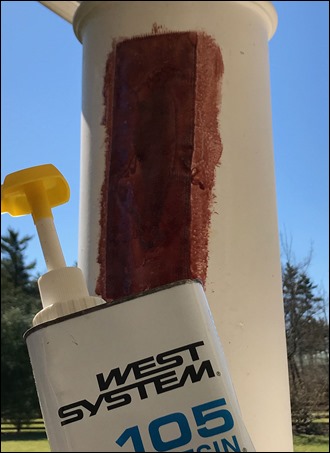 While working on the "bird away boxes" last weekend, the spring weather warmed improved enough at least for a day in order to start a fiberglass column repair (needed for curing). The wind blew enough a few weeks ago to toss items around enough that a crack and a chunk of plastic was broken out of the column.
This really wasn't that big of a deal since we seriously need to updated the trim painting on both the house and detached poolhouse – garage. I used the material that I had, West System Epoxy and fiberglass matting, in order to patch and will add some putty soon.  Hopefully with a little sanding on the next nice day I'll be ready for paint later this summer? Unfortunately these were never primed and the paint has peeled terribly. Now I have a lot of prep work to get things ready for paint.