Posted By RichC on February 27, 2020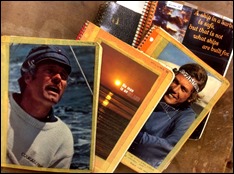 Six years ago, which seems like yesterday (considering everything that has happened), I recalled and blogged on my first journaling in 1977 noting that the focus was on planning my life around sailing – to quote George Bernard Shaw, "Youth is wasted on the young."  The reference was that the number of posts on MyDesultoryBlog had grown and that the variety of topics was … well … desultory.  The number of posts obviously continues to rise and it is becoming increasingly challenging to organize and find certain posts.
Take for instance the birth of our second granddaughter Ellerie last week; I wanted to look up and compare a few photos of Annalyn, but considering how many posts and photos that included her, searching for the one I wanted was impossible. 
I am going to have to come up with a better tagging system or keywords as I'm have a harder and harder time finding thing. I commented to Brenda the other day that even though I turn to the blog as an archive to find dates and events for our family, it is no longer dependable. At the time I was trying to figure out ages of our nephews and nieces families and realized that even though MyDesultoryBlog was my go-to place, searching was no longer quick and easy.
A part of me pines for the simplicity of my old desktop rolodex I used in my first sales job, or my early 1980's Macintosh Computer with the
DA Quickdex or my old paper-based address book I kept in my Daytimer and Franklin Planners. Ah, the good ol' days (photo right – a couple of my old pocket planners on top of my current Moleskine notetaking notebook).
On the other hand, I enjoy stumbling across thoughts, while inefficiently searching for something on the blog, that that trigger endorphins and that "feel good" emotion. Maybe I need to embrace the rooting around and appreciate the good feelings and memories?
BTW, 6588 … that's the number of posts since I started this blog in April of 2005. The first post (well almost) was about a test drive of a Volkswagen TDI diesel … which as a VW fan and TDI diesel guy (my 2003 VW Jetta TDI below) was apropos.