Posted By RichC on February 22, 2020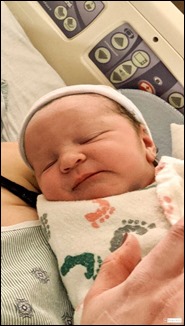 Thursday night (February 20, 2020 ) Drew and Katelyn knew it was time, so they packed up and took Annalyn over to Drew's parents, which was the plan. They arrived at the hospital about 10:30 PM with very little time to spare and Katelyn immediately gave birth to an 8 lb 3 oz baby girl at 11 PM. They named her Ellerie Frances Oostra. – very nice, as it also kept both Katelyn's and her Grandmother Howard's middle name (Annalyn's birth post).
After a bit of extra surgery for Katelyn, she was rolled  to recovery and by Friday morning told me she was "as right as rain" … which made me smile and put me as ease. (see idiom reference below). Also I'm thinking she was just happy to have the birthing process behind her and was glad little Ellerie was content and healthy. I'm looking forward to seeing her soon!
As right as rain describes someone in fine health, something in good working order, an idea that is correct, or a process that flows smoothly.  — Grammarist
Thank you Lord for watching over the miracle of birth … and for keeping both Ellerie and Katelyn safe. Also thank you for your word which reminds me to "rejoice always, pray without ceasing and to give thank in all circumstances; for this is the will of God in Christ Jesus." Amen. – 1 Thessalonians 5:16-18

Annalyn holding her new little sister Ellerie at the hospital – 2/21/2020