Posted By RichC on February 4, 2020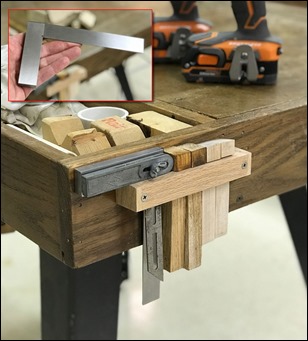 A week or so ago, I mentioned that my woodworking tools were often in the way when sticking out of the tool tray on my work table. It is nice not to have tools above the surface as I'm often rotating a larger project. So I added a little side "holster" for the bench dogs (hold-downs and clamping with a vise gadget) and as a handy place for a couple squares.
My intention was to use an antique try-square, but instead, I added a more accurate steel machinist's square that is also excellent for squaring a table saw blade or fence. It is small enough to holster flush with the work table's surface alongside a small adjustable T-bevel Square and after remounting, it works great and is very convenient.
After Sunday afternoon's memorial, there was still an hour or so left before the Super Bowl, so I started working on Annalyn's birthday present. She wondered, "What is Bompa making for me?" … then asked Katelyn and Drew to send me a photo (below) of my BIG granddaughter riding her bike in the basement (she knows I'm excited to see her ride and we are both looking forward to summer weather so she can ride the "red bike" at our house too)!