Posted By RichC on March 5, 2020
Guess who's birthday it was yesterday?  ==>  Annalyn's !!!
It is hard to believe our granddaughter is 3 years old? She is growing up so fast.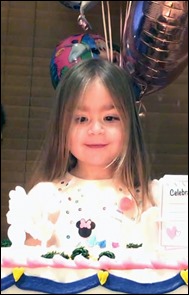 Brenda and I visited in Perrysburg a few days ago and semi-celebrated Annalyn's birthday with a couple gifts, but yesterday also enjoyed singing Happy Birthday on Facetime. We watched her blow out the candles on her cake and noticed she did a good job of licking the frosting them too.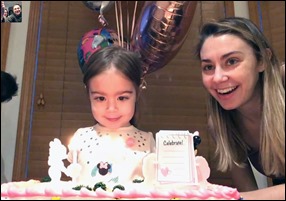 Earlier in the day Katelyn sent us a few photos of Annalyn's special day since she wore a top with a big number 3, a special hair "thing" (dads and grandpas don't really know what they are?), Minnie-Mouse and some fancy balloons. I could really tell from her smiles that she was loving the attention. While Katelyn directed the "show," Drew was in the background holding 1-1/2 week old little sister Ellerie!
Brenda heads up tomorrow for a couple days and was busy packing up her spaghetti sauce for them tomorrow night. I hope they have a good time together and that Brenda will be able to hold up (her back/leg has really been bothering her and leaves her wiped out each day .. but she is on the mend, we hope!)
So, Happy Birthday, Annalyn! I will see you soon!
And even though I know this post is all about Annalyn, I can't help but include a photo of our "smiling" Ellerie from this week.