Posted By RichC on September 14, 2022
Read an interesting Washington Post article (PDF ReaderView archive) this past week discussing Southwest Airlines "open seating policy" and challenges in landing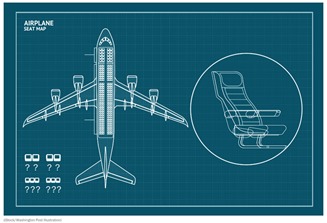 preferred seating without paying a premium – although, "the only way to guarantee an early boarding position is to pay," wrote James Bikales.
Still some of us make a game of trying to land the A and B groupings without paying the premium ticket price (yes, that would be me). Recently though, I had a conversation with a Rapid Rewards customer service representative suggesting that I try to use the Chase Business Rapid Rewards credit card to upgrade my position at the gate. She suggested that the credit card should reimburse me the EarlyBird fee "IF" there is a better seat available even when at the gate. The documentation doesn't state this … nor could I get confirmation from the author or a couple of the quoted travel experts if this works.

The only thing the documentation says (below) is that RR Business members will be reimbursed for two EarlyBird upgrades per year (Personal Priority credit card holders are permitted 4 per year) and that Chase will reimburse those fees. I suspected the reimbursement was "only for booking online" and requesting preferred boarding positions "before the 24-hour check-in?"  The Customer Service person seemed convinced that it could also be done in person at the gate … so as long as there were positions available (and most of the time there are A1-15 slots vacant). Since I'm usually at the gate early, it might be a way to kill time and see if it works? Stay tuned.

Back to the article, another tip was to have only one member of a party pay the EarlyBird fee and "save seats" … if you really like doing that kind of thing … I don't.