Posted By RichC on September 12, 2006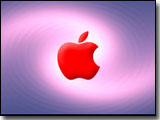 Apple Computer Inc. had their semi-surprise news shindig today as Steve Jobs announced that they will be selling Disney new releases on their iTunes Store for $14.99 for a full-length download. This alone is probably good news, but then the company also introduced a 'bigger' iPod player for $349. (long awaited as timeline as technology goes) Jobs also indicated that they will sell older films for $9.99.
According Mr. Jobs, the new iPods will also have brighter screens and longer battery life than older models and storage of 30 gigabytes and 80 gigabytes. The largest models charged battery will last as much as 6.5 hours according to Apple.
The hot selling iPod Nano models will also get a boost for music and voice lovers with a model boasting up to 8 gigabytes and costing $249. The diminutive iPod Shuffle also gets a bit more flash memory; its at 1 gigabyte and sells for $79.
For those waiting for the iPod cellphone … you were probably disappointed, although I don't think anyone really expected one this month.