Posted By RichC on October 6, 2006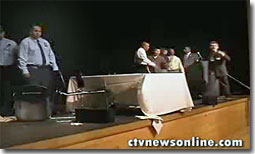 Most universities across our country pride themselves on offering students diverse views by inviting notable and controversial people to speak throughout the year. For the most part differing points of view are welcomed on most campuses and fairly well received by both student and faculty. I've often believed that one of the hallmarks of college life is giving students an opportunity to hear as many points of view as possible and seeing the "right to free speech" put into practice.
At Columbia University the other day (Oct 4th), the founder of the Minuteman Project, Jim Gilchrist, and two other members were invited to speak at the Roone Arledge Auditorium to be followed by a question and answer session. Unfortunately, the guests were shouted down and a "chaotic brawl" involving more than 20 students and others broke out. The protest was a well orchestrated and planned (and promoted) according to reports and the International Socialist Organization unfurled a yellow banner reading, "No one is illegal!" Other banners contained both Spanish and Arabic writing rumored to say some pretty inflammatory things. After the banner was unfurled the protesters rushed the stage and the speakers were ushered out of the Columbia auditorium.
When protest participants were asked about infringing on the right that the Minuteman Project had to be heard, one protester who wished to remain anonymous said, "I don't feel like we need to apologize or anything. It was fundamentally a part of free speech. … The Minutemen are not a legitimate part of the debate on immigration."
Groups invited to speak at Columbia require a sponsor and must provide appropriate management, including security, for the event. The Columbia University College Republicans were the sponsors for Gilchrist and two other speakers from the Minutemen. An interesting comment from a Columbia student is that only ring wing speakers have required added security and have had events threatened or disrupted. Just as individuals like Ward Churchill, Ann Coulter, Michael Moore or Shawn Hanity bring blood to the boiling level, the Minutemen speakers seem to be able to do the same. There have been no arrests to date of anyone that has stormed the stage and disrupted the event, but University spokesman Robert Hornsby said that he could not discuss the consequences because the investigation is ongoing. Check out the YouTube video of the disruption below.