Posted By RichC on July 30, 2008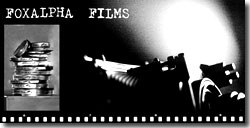 Vine Street in Cincinnati will be closed on Wednesday night (8/30) around Fountain Square for an action sequence of television pilot. The "yet to be picked up pilot" called "J8ded" is being pitched to a major television network, according to films director and producer Michael Daemon. The $10 million dollar production by Foxalpha Films will prominently feature the city of Cincinnati (and a few residents) in a military flashback scene tonight. The filming will closed a section of Vine Street between Fifth and Sixth from 6PM until 11PM. If you are downtown and would like to appear as an extra, show up at Fountain Square at 5PM to sign up — perhaps my son and his buddies will want to head downtown if they are bored? (consent required if you are under 18)
Local businesses around Fountain Square and both the Cincinnati Mayor, Mark Mallory, and the Police Chief Tom Streicher will be involved in the project. (they will be walking and chatting while actors in military clothing and carrying automatic weapons will be running through the crowd) Several crew members and some of the supporting actors will be Cincinnati locals, including Cincinnati Police Sgt. Roger Robbins and Goshen Police Officer James Taylor.
According to an article in the Cincinnati Enquirer, Foxalpha Films has been filming in the area for more than a year. If the pilot airs, viewers will recognize Paul Brown Stadium, National Underground Railroad Freedom Center and Procter & Gamble Co. headquarters. Crews have filmed in Mount Adams, Hyde Park and elsewhere.
The company chose Cincinnati for the backdrop to their show and relocated their headquarters here from Chicago because city officials were welcoming.
"It's a beautiful city," Daemon, 33, said. "We looked at a lot of different cities, but Cincinnati has a different look and appeal. The people were all pleasant. Everybody kind of welcomed us with open arms. You don't find that very often."