Posted By RichC on April 28, 2011
I heard something similar to my posted title the other day on CNBC, and after hearing that the Federal Reserve will continue to keep interest rates low a bit longer, I'm seeing those concerned about inflation moving even further toward taking off-the-grid survivalist measures. Gold "up" – Silver "up" – Food Commodities "up" – Gun checks "up" … even Walmart is quietly getting back in the guns and ammo business.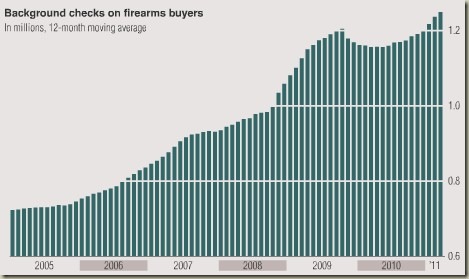 Chairman Ben Bernanke reinforced the unanimous opinion of the Federal Reserve Board to keep Fed interest rates unchanged and the dollar suffered further declines, sending precious metals buyers back to gold and silver.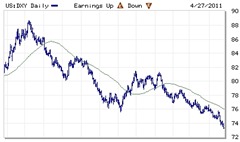 The most-actively traded June gold contract hit an intraday record of $1,527.70 and the silver contract for April delivery jumped 90.6 cents to settle at $45.964 a troy ounce … slightly down from its high a few days ago but still modern-day historically high. The central bank did signal the end of its $600 billion bond-buying program reiterated they expect short-term rates to stay at a record low for an extended period.
Stocks continued for the most part their bullish run, partially helped by companies stronger earning and the "perception that the U.S. is recovering from the recession." Personally, I'm feeling the pinch of higher costs and expect that most middle class (and particularly lower income) Americans are suffering as the cost of living continues to rise. Oil prices and unemployment certainly lead the list, but food commodities and buying all things shipped are going to put a pinch on discretionary income. I've cut back on my driving and hotel stays in order to save my company money and expect that repeats of this will get reflected in the economy … in my opinion. Let's hope the expanding markets for U.S. products and the weak dollar will help create jobs and a great business environment for companies that export overseas – this is my hope silver lining to a worrisome economy.
As for pick-up trucks, well I'm not sure where they really fit in as we watch gasoline rise above $4 or $5 /gallon. Maybe they're just required tools for those living and moving off the "dollar based" economic grid?