Posted By RichC on May 6, 2009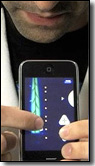 Short on time tonight, so here a YouTube comedy video from Rhett & Link that promotes an iPhone app called Leaf Trombone World Stage. They are best known for their internet videos and are self-proclaimed "Internetainers". In addition to their web presence, Rhett & Link are also musicians and filmmakers, and have worked in network television as hosts. They own and operate a video production company called Rhett and LinKreations, LLC.
For more information on Rhett & Link, their bio is a great read.
—  YouTube video below —