Posted By RichC on January 11, 2010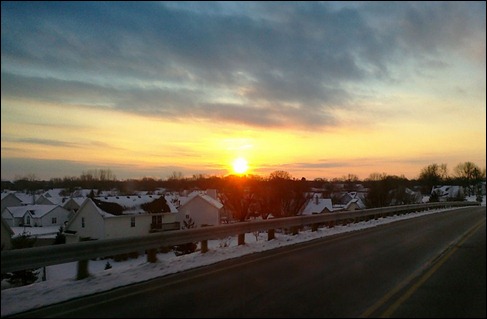 Who doesn't enjoy a Palm Pre cellphone sunset photo?
I'll start with something simple that sooths my aching head … a beautiful winter sunset in Cincinnati Ohio (photo above) … and conclude with a very short comment regarding our Experimental Aircraft Association Chapter (EAA284) meeting on Sunday – one that had a subject over my head.
One of our chapter members, Brian Cooper, is a graduate of the University of Cincinnati's Aerospace Engineering program. He spent a couple hours with his Powerpoint display and CAD drawings discussing his new aerobatic airplane design which utilizes advance composite technology.  His goal was to reduce weight and increase strength, something all performing aerobatic pilots seek. The three areas where his design differs from most of the current aerobatic biplanes is in the "D" wing leading edge, lack of strut supports and weight reduction based on a relatively new lightweight engine choice. His currently CAD based project is based on research and testing during hands-on scaled projects at UC, but is being constructed as a one off project in is shop. During the next few years, we'll hopefully have the opportunity to see this design under construction and perhaps even some flight testing? Thank you Brian for enlightening us.