Posted By RichC on August 23, 2010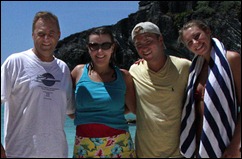 I'm wrapping up a final post from a fantastic family summer vacation. The trip to Bermuda and back has me wondering where the week went? The time was both relaxing and exciting … and especially nice considering the four of us enjoyed it together – I probably should "thank" Brenda for pushing the trip even though I resisted in such a down economy.
Our "Day 7" was spent  aboard ship at a 18 knot clip heading northwest toward the US. The previous evening's navigation out of Bermuda's barrier reef system is tricky considering the depth of the water inside, but after looping across the north side of the island from the dockyard, north of Hamilton and surprisingly tight around St. George, we were on our way.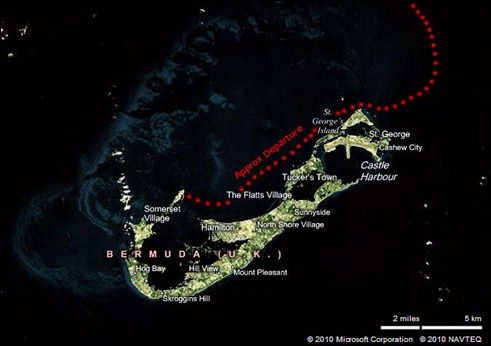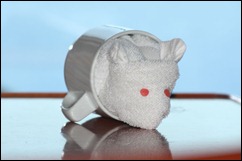 We spent some of the day in the sun and some at an art auction … something we have enjoyed over the years. I'd like to say that I'm somewhat more knowledgeable about art, but I just can't get past the "marketing" associated with selling art to a captured audience. Nevertheless, if I get beyond the price tag, I do enjoy browsing and do appreciate the works. We've not purchase any heavy marketed Peter Max art yet (his site), but did come back with a nice Bermuda beach painting for our home.
Besides relaxing in the sun and art shopping, we did our share of eating as well. All of us gained at least a couple pounds and will need to be a bit more disciplined when it comes to our exercise and eating these next few months. The food was great … fish every night for me so I don't feel too bad even though the quantities were excessive.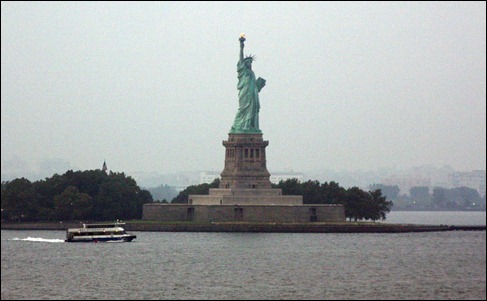 By the morning we were cutting through the haze passing the New York harbor lightship and knocking down buoys. The sun didn't really rise, but the cloudy sky lightened and offered an interesting view of the ferry dock,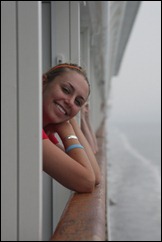 the Statue of Liberty and New Jersey side of the Hudson River.  We disembarked at 10:00 AM and were exploring downtown in the rain until crossing the Queensboro Bridge and crowding our way through the LaGuardia Airport.
Just as we were set to takeoff, ATC stopped flights and our pilots shutdown the engines as we sat on the taxiway. Thankfully it wasn't one of those multiple hours situation and we were back underway within 15 minutes.
The day wasn't quite over as we made the quick trip from CVG home, unpacked … then repack to take Taylor to Miami and moved him into his room. We did the obligatory run to Walmart for last minute college supplies including a small refrigerator and late night Taco Bell … then I could head home. Whew … work the next day was going to be a relief.
😉
Embed broken – link here.