Posted By RichC on November 2, 2010
Just for the fun of it I'm tracking the election tonight as the results come in. My early gut call is that the Tea Party groups will run many of the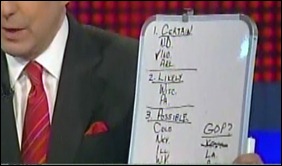 incumbent Democrats out of office and give Republicans the House of Representatives.  In fact, I'm not really following the House race and believing it is comfortably in Republican control.
Congratulations a bit early to my congressman and the next Speaker of the House, John Boehner.
As for the Senate, the chance of changing hands is unlikely, although expect Republicans to pick up seats. I thought Chris Wallace's whiteboard was helpful to understand what is needed so I'm semi-live blogging it below.
Pathway for GOP control of the Senate – 10 seats needed – R – D
Certain:
ND– R
IN – R
AR– R
Likely:
WI– R
PA– R
Possible:
CO – close
NV– D
IL – R
WV–D
Democratic Firewall:
CA– D
WA – close
CT– D
Updated: 11/3/2010  8:30AM EST
After the 11PM posting and the fall of CA, CT and WV … it is not realistic to take 10 seats even if the Republicans take PA, CO, NV, IL and WA. Currently (11:05PM) PA and IL Senate races are tied.