Posted By RichC on November 8, 2010
For many trying to recover from a difficult and seemingly never ending recession, the thought of their dollars getting weaker and weaker is demonstrated most clearly by the price of gold continuing to rise. For people living on a fixed income, the fear of their purchasing power falling is unsettling. Not only has gold continued to rise, but basic commodities are rising as well … something that may soon to be reflected in the products we buy. Hold on to your hats as we could be dealing with inflationary pressures in 2011.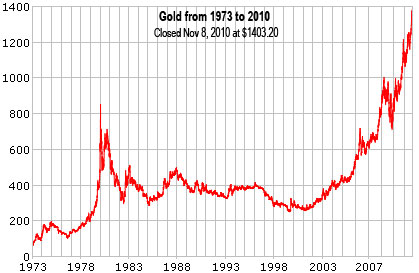 Gold futures topped $1,400 for the first time amid uncertainty on the outcome of Group of 20 currency talks and worries about sovereign debt in Europe.

Further highlighting gold's role as an alternative currency, the World Bank president advocated the inclusion of the metal in a revamped global monetary system.

The most actively traded contract, for December delivery, rose $5.50, or 0.4%, to settle at $1,403.20 a troy ounce on the Comex division of the New York Mercantile Exchange.